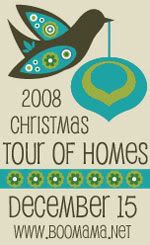 Welcome! I'm so glad you could drop by my home. With so many bloggy-land parties being thrown, I'm just all in a tizzy. The button above will take you to
BooMama
, but I'm also enjoying the fun at
Hooked on Houses
and the
Thrifty Decor Chick
. I am SUCH the social butterfly, as you full well know.
I'm feeling quite a bit more laid back about the whole Christmas season this year. So, things may not be perfect... but this is real Christmas for real people right here. I may have shoved a few things out of the way for the camera, but that doesn't mean the mess is gone. It's just hidden for a few glorious minutes. But let's set the record straight, here. I am not, in any way, shape, or fashion a good photographer. I'm not even a decent one. I'm really not a photographer. I'm just a girl with a camera in her hand, which does not in any capacity make me a photographer. At all. At. All. Some of these bloggy homes you're going to visit are all fancy-schmancy with their slightly-blurred beautiful ornament close-ups that bring us all to tears with nostalgia. This is not one of those blogs.
Nate says I'm trying to make our entryway look like a shire. (I have more trees that aren't in the photo.) Please, come in. Watch out for the mistletoe. The kids cut it down while we spent Thanksgiving at a friend's house.
Santa hats are an accessory, not a decoration. They're kept by the door for a quick dose of Christmas cheer, which you can read more about on my last
Works For Me Wednesday post
. (Yes, it's a recycled photo. Deal with it.)
Nate's late Grandmother made the jeweled Christmas tree, and that was her snowblobe, too. For some reason I like to collect neat looking star Christmas tree toppers, but not put them on my tree. They're just fun. I also like old books. I put them under lamps to make the lamps look taller. Tricky girl, I am, I am.
In college Nate and I were young, married, penniless and expecting our first baby. A dear friend, Amber, made us our first Christmas stockings as a family. "Mom," "Dad," and "Taylor." It meant so much to me that she took the time to do that, just for us. I still put them up every year.
My little snowman collection is down there on the hearth, along with photo Christmas cards from years past. It's always fun to flip through and remember dear friends.
Growing up, my mom always decorated the top of our piano. A couple of angels brought us one last Christmas, so this is my first official Christmas with a piano to decorate!
What's a piano with out Christmas songs? Mom had these, too. I guess you could say I'm a little nostalgic.
Everyone needs a Christmas village. When you were little, didn't you look at the little houses and imagine someone actually lived in them? I do have snow, but it's the prickly fiberglass kind that gets stuck in your skin. I got sick of feeling like I had needles poked in my fingers every time I arranged it, so I didn't put it out this year. (By the way, my village was 1/2 off at The Dollar Tree a few years ago, post-Christmas. Fifty cents a house, baby! Maybe I should look there for some non-prickly "snow.")
We have a double sided fireplace, (hmm... there are stars on both sides... I must love stars), so our stockings go on the other side. (Oh, Lord-y, how I want a mantel. A nice, big mantel. One that I can hang a garland on and that will hold my stocking holders. I don't have a mantel.) Nate's stocking is his actual one that his mom made when he was little. The rest have been added through the years as our family has grown, some made by her and some by me. Actually, most by her and a couple by me. Okay I only made one... and a half. Come on, people. So I'm not a seamstress. Sheesh.
So, do we keep Santa and snowmen on one side of the fireplace and baby Jesus on the other? Because that's what it looks like.
Let's get a closer look at those lovely, handcrafted stockings. Hey, what's that up there on the armoire?
Abe is in a festive mood this time of year, too. (He also has bunny ears for Easter. He's just a fun guy like that.)
Gee, I have enough tree toppers... why aren't any of them actually on the tree?
The fancy tree close-up. I spy with my little eye a hand print reindeer, two angels that fly. A s'more, a candy cane, "I love God," the girl taking this picture, who's rhyming is odd.
And, if you send us a Christmas card it will get put up on the wall surrounding the advent calendar. (Also made by my mom-in-law.) I love me some Christmas cards! Send them! Send them! Bonus points if it's a photo card. But I'll subtract a couple points if the picture is only of your kids or dogs. You need to be in it, too. (Does anyone tally these blog points? I should start a website or something.)
Our centerpiece this year came about quite by accident. I bought the kids those "grow your own tree" things from the dollar spot at Target. They were SO excited about them. Well, they need plenty of light, and the only place in the house they can really get it is on the dining room table. So, there they sit. They're actually quite cute, and I SWEAR I can see them growing. Seriously. It's kind of freaky, they grow so fast. And in twenty years, the kids will each have their own tree. Ha, ha. Ha. ha. uh...
I think there was something said about providing refreshments on this home tour, and then providing the recipe. Well, I'm all about keeping things simple. Especially this year. I haven't felt the rush of years past, and am truly relishing the joy of Christmas this season. So, stop on by. I'll even share my Mother's Cookies with you, now that I'll
still be able to buy more
. And if the brownies come out of my oven, they are homemade... whether Pillsbury counts it that way or not. (You can contact them for the recipe.) We'll look at some decorating books and chat about whatever comes to mind. I'll even make you some of my
super yummy coffee
. (Yes, the mug in the photo is empty. Give me a break. It's the IDEA behind the photo, not the substantive evidence in the photo itself.)
As I mentioned, I've been trying to keep things a little simpler this year... here is why. The treats may not be made from scratch, there may be a little dust in the corners, everything might not be put away all spic and span, but my kiddos have smiles on their faces. I'm trying to carol a little more and worry a little less. Tonight I watched the Nutcracker with all four of them on the couch. We had popcorn, apple slices with peanut butter, and apple cider/hot cocoa for dinner. Yes, for dinner. And as I was snapping photos for this post, they tackled me and tickled my feet... from which they only turned at the prospect of me taking this photo. So, here is why:
Merry Christmas. May your heart be light. Jesus came and gave Himself that we might have freedom, not fear... joy, not worry. Slow down and really show those you love that you love them by giving yourself this Christmas.
And stop by ANYtime for some box-mix brownies.