An official welcome to the official start of my official new blog page! Woo-Hoo! Quite ironic, me thinks, that this ceremonious day falls on a THURSday, and quite a Sassy one at that.
Many of you know I have been on the hunt for a perfect pair of brown boots. I notoriously
failed
a short time ago with
Haydon
in brown. Hmmm... I'm still not quite sure why. Maybe it had to do with the "cankle boot" comment I got from TWO different in-person viewers of said boot.
However, while visiting the glorious city of Denver, a friend and I happened upon these little beauties while gallivanting around the mall. I wasn't sure at first. I had wanted a thicker stacked heel, but they were definitely no "cankle" boot. They worked well over my jeans, but were still snug enough around my calf to be acceptable. Upon examination of the pricing sticker I discovered they had been recently marked down. I still wavered a bit. My friend, Julie (Once again, I could link you here if you guys had a site!!!), was very patient... listed the pros and cons... waited while I took forever... and then very kindly said something to the degree of "I don't know why in the world you haven't bought them yet."
I AM SO GLAD I DID! These boots are awesome. A little snug at first, but have stretched just enough to be perfect. I now need to acquire some brown tights so as to broaden their involvement in my wardrobe. (This would involve a trip to Target. Gee, too bad.) I was faced with the dilemma of how to get them home, since they wouldn't quite fit in my overfilled suitcase. So I wore them on the plane. We girls have a solution for everything.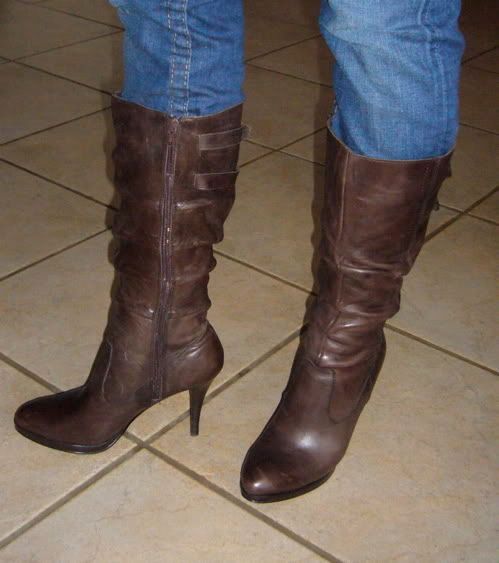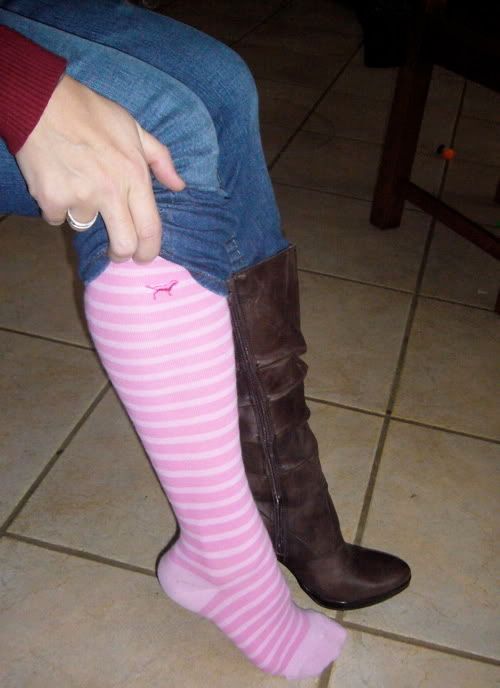 I wanted to show you my cute Pink socks that I love to wear under my boots, just so you know I'm a normal girl (although some could make a good argument for the contrary) with a normal love for fun foot attire. After Nate so graciously took these photos, I realized I hadn't shown you the other side of the boot that has the funky goldish buckles. Sorry. You'll just have to come for a visit.